Back
JINSA National Leadership Webinar:
Congress and the Iran Nuclear Negotiations
---
Despite the Biden administration's repeated claims that "time is running out" for the U.S. and Iran to reach a nuclear deal, Tehran continues to shorten its nuclear breakout time – which Special Envoy for Iran Robert Malley says is now just weeks – as yet another round of talks begin. Congress appears to be paying attention to what is happening in Vienna. In an hour-long speech on the Senate floor on February 2, the Chairman of the Senate Foreign Relations Committee Chairman, Senator Robert Menendez (D-NJ), questioned current diplomatic efforts, called for "new strategies for rolling back Iran's nuclear program," and demanded a "steely determination from Congress" to ensure Iran never gets a nuclear weapon. In response, just a week later, Malley is appearing this week before House and Senate committees for closed hearings about the state of U.S. nuclear diplomacy with Iran.
Please join JINSA Senior Advisor Stephen Rademaker, Senior Fellow at JINSA's Gemunder Center for Defense and Strategy John Hannah, and JINSA Vice President for Policy Blaise Misztal, for a webinar to discuss the ongoing Iran nuclear deal negotiations, the recent Malley hearings, and the role of Congress in preventing a nuclear Iran.
This event will be moderated by JINSA's Director of Foreign Policy Jonathan Ruhe.
---
Thursday, February 10 – 11:00am EDT

CLICK HERE TO REGISTER

This off the record webinar is open exclusively to JINSA's
National Leadership and program participants, congressional
and administration staff, U.S. military, and the policy community.

RSVPs must be received via the button
to the left at least 30 minutes prior to the start time.

Once your registration is confirmed, you will
receive the details to join.
---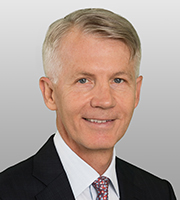 Hon. Stephen Rademaker
The Hon. Stephen Rademaker has over 20 years' experience working on national security issues in multiple branches of government. He previously served as the Assistant Secretary of State for International Security and Nonproliferation. As Assistant Secretary of State he led multiple bureaus at the State Department, and also directed the Proliferation Security Initiative and nonproliferation policy toward Iran and North Korea. During this time he also headed U.S. delegations to the 2005 Review Conference of Nuclear Non-Proliferation Treaty (NPT). On Capitol Hill, Rademaker served as Chief Counsel for the House Select Committee on Homeland Security, and as Deputy Staff Director and Chief Counsel of the House Committee on Foreign Affairs. He also held several positions in the George H. W. Bush Administration, including Deputy Legal Advisor to the National Security Council.
John Hannah
John Hannah is a Senior Fellow at JINSA's Gemunder Center for Defense and Strategy. Hannah served in senior foreign policy positions for both Democratic and Republican administrations, including as former Vice President Dick Cheney's National Security Advisor from 2005-2009 and as Vice President Cheney's Deputy National Security Advisor for the Middle East from 2001-2005. Previously, he also served as a senior advisor to Secretary of State Warren Christopher during the Bill Clinton administration, and as a senior member of Secretary of State James A. Baker's Policy Planning Staff during the presidency of George H.W. Bush. Outside of government, Hannah was Senior Counselor at the Foundation for Defense of Democracies, a Senior Fellow at The Washington Institute for Near East Policy, and a lawyer practicing in the area of international dispute resolution. Hannah received his BA from Duke University, his JD from the Yale Law School, and did graduate work in international relations at Stanford University.
Blaise Misztal
BlaiseMisztal is the Vice President for Policy at JINSA. His research interests include Iran and its nuclear program, U.S.-Turkey relations, countering extremism, and strategic competition.
Jonathan Ruhe
Jonathan Ruhe is JINSA's Director of Foreign Policy. Prior to joining JINSA, he worked at the Bipartisan Policy Center (BPC), where he focused on Middle East and Former Soviet Union security issues. His commentary has appeared in theWall Street Journal, Washington Post, Foreign Policy, The National Interest, and various international media outlets. He holds degrees with honors from Georgetown University's School of Foreign Service and from the University of Chicago, where he was a fellow with the Program on International Security Policy.
---